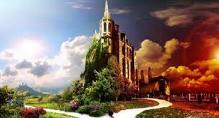 Broad Road
The glory and majesty of God were made to pass before me. Said the angel: "He is terrible in His majesty, yet ye realize it not; terrible in His anger, yet ye offend Him daily. 'Strive to enter in at the strait gate;' 'for wide is the gate, and broad is the way, that leadeth to destruction, and many there be which go in thereat: because strait is the gate, and narrow is the way, which leadeth unto life, and few there be that find it.'" These roads are distinct, separate, in opposite directions. One leads to eternal life, the other to eternal death. I saw the distinction between these roads, also the distinction between the companies traveling them. The roads are opposite; one is broad and smooth, the other narrow and rugged. So the parties that travel them are opposite in character, in life, in dress, and in conversation.
Those who travel in the narrow way are talking of the joy and happiness they will have at the end of the journey. Their countenances are often sad, yet often beam with holy, sacred joy. They do not dress like the company in the broad road, nor talk like them, nor act like them. A pattern has been given them. A man of sorrows and acquainted with grief opened that road for them, and traveled it Himself. His followers see His footsteps, and are comforted and cheered. He went through safely; so can they, if they follow in His footsteps.
In the broad road all are occupied with their persons, their dress, and the pleasures in the way. They indulge freely in hilarity and glee, and think not of their journey's end, of the certain destruction at the end of the path. Every day they approach nearer their destruction; yet they madly rush on faster and faster. Oh, how dreadful this looked to me!
I saw many traveling in this broad road who had the words written upon them: "Dead to the world. The end of all things is at hand. Be ye also ready." They looked just like all the vain ones around them, except a shade of sadness which I noticed upon their countenances. Their conversation was just like that of the gay, thoughtless ones around them; but they would occasionally point with great satisfaction to the letters on their garments, calling for the others to have the same upon theirs. They were in the broad way, yet they professed to be of the number who were traveling the narrow way. Those around them would say: "There is no distinction between us. We are alike; we dress, and talk, and act alike."
1T 127,128