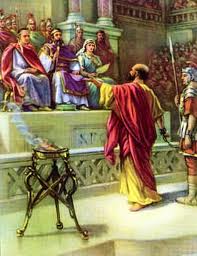 In The Palace
No such opportunities were now granted the apostle, confined as he was to his own dwelling, and able to proclaim the truth to those only who sought him there. He had not, like Moses and Aaron, a divine command to go before the profligate king and in the name of the great I AM rebuke his cruelty and oppression. Yet it was at this very time, when its chief advocate was apparently cut off from public labor, that a great victory was won for the gospel; for from the very household of the king, members were added to the church.
Nowhere could there exist an atmosphere more uncongenial to Christianity than in the Roman court. Nero seemed to have obliterated from his soul the last trace of the divine, and even of the human, and to bear the impress of Satan. His attendants and courtiers were in general of the same character as himself--fierce, debased, and corrupt. To all appearance it would be impossible for Christianity to gain a foothold in the court and palace of Nero.
Yet in this case, as in so many others, was proved the truth of Paul's assertion that the weapons of his warfare were "mighty through God to the pulling down of strongholds," 2 Corinthians 10:4. Even in Nero's household, trophies of the cross were won. From the vile attendants of a viler king were gained converts who became sons of God. These were not Christians secretly, but openly. They were not ashamed of their faith.
And by what means was an entrance achieved and a firm footing gained for Christianity where even its admission seemed impossible? In his epistle to the Philippians, Paul ascribed to his own imprisonment his success in winning converts to the faith from Nero's household. Fearful lest it might be thought that his afflictions had impeded the progress of the gospel, he assured them: "I would ye should understand, brethren, that the things which happened unto me have fallen out rather unto the furtherance of the gospel." Philippians 1:12. AA 463